The Central Texas Aging, Disability & Veterans Resource Center Evidence Based Programs taught by certified trainers, help you take charge of your life with Better Choices, Better Health and A Matter of Balance.
Find practical ways to deal with pain, fatigue, and stress
Discover better nutrition and exercise choices
Future plans for health care
Emphasis on practical coping strategies
Learn better ways to talk with your doctor and family about your health
Get much needed support
Chronic Illness Self-Management/Diabetes Self- Management
The Texas Department of Aging and Disability Services (DADS), through it's Texas Healthy Lifestyles program, serves Texans by providing information about the risks associated with disease and the benefits of a healthy lifestyle. This program is designed to encourage positive thinking, teach fatigue, pain & symptoms management, build communication skills, develop action planning and teaches many more problem-solving activities that will help Texans make informed treatment decisions.
A Matter of Balance: Managing Concerns about Falls
A Matter of Balance is a class that can help you learn more about exercises to improve your strength and balance. This program was designed to decrease fear of falling and increase activity levels. Participants learn to view falls as controllable, set goals for increasing activity, make changes to reduce fall risks at home and exercise to increase strength and balance.
Whatever YOUR ongoing condition… diabetes, arthritis, high blood pressure, heart disease, chronic pain or other related health issues evidence based programs offered by the Area Agency on Aging of Central Texas can help YOU find balance in your life.
Learn how to Thrive-Not just Survive!!!
This Program is based on Fear of Falling: A Matter of Balance. Copyright ©1995 Trustees of Boston University. All rights reserved. Used and adapted by permission of Boston University.
A Matter of Balance Lay Leader Model
Recognized for Innovation and Quality in Healthcare and Aging, 2006, American Society on Aging. A Matter of Balance Lay Leader Model was developed by a grant from the Administration on Aging (#90AM2780).
Funded in part by the Texas Department of Aging and Disability Services.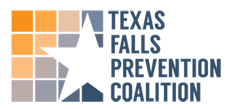 Evidence based program established by: