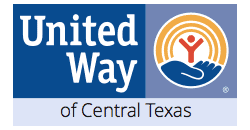 In order to improve lives in Central Texas, UWCT focuses on the four building blocks of life:
Education, Financial Stability, Health and Basic Needs
A healthy community learns well, earns well, and lives well. Through initiatives and investments guided by community volunteers, United Way of Central Texas advances the common good in conjunction with its many partner agencies and community impact partners. That's why we've incorporated these key building blocks into our collective impact strategy.
Education
Our partner agencies offer several early childhood education programs to increase the mental, emotional, and physical skills of hundreds of Central Texas children.
Financial Stability
UWCT is engaged in activities and initiatives to help build the financial stability of families in our community. Keeping money in the local economy through these programs is good for families, small business, and the community as a whole.
Health
Whether it is a neighbor without health insurance, a victim of abuse, or someone struggling with mental illness or an addiction, we are working to ensure everyone in our community can receive any and all help needed so they can focus on improving their lives rather than simple survival.
Basic Needs
We are committed to ensuring that families are stable and in a safe environment.